Belt Sizing & Fit Guide
Selecting A Belt                
The leather and style of belt you choose can go a long way in showcasing your buckle and expressing your personal style. We hope to assist you in finding the belt that is a perfect fit for your needs.
Belt Width
The process of choosing a belt begins with the buckle. The width of the buckle will determine the width belt you need to showcase your statement piece. Buckles come in four widths (sizes):
3/4 inches wide
1 inch wide
1 1/4 inches wide
1 1/2 inches wide
Belts are either straight or tapered. Most single piece buckles look best on a straight belt. Tapered belts allow for a smaller buckle set to work with a wider belt. For men, our most common belt configuration is a 1 1/4 inch belt tapered to 1 inch (1 1/4" x 1") with a 1 inch buckle set.  
Most men prefer a wider belt, 1 1/4 inch or 1 1/2 inch. Both widths work fine with jeans or khakis. However, a 1 1/2 inch belt is too wide for most dress pants. Women choose belt widths for the style or look that they are going for. We take special orders for any belt width. One of Walt Doran's sash buckles on 3 inch wide belt is stunning worn outside clothing.
We also take special orders for ranger belts, in which a narrower billet is actually sewn onto the length of the belt. Ranger belts are a good way to showcase a really small buckle set on a much wider belt. For instance, a 1 1/2 inch belt tapered to 3/4 inch looks odd, but a 1 1/2 inch ranger belt tapered to 3/4 inch showcases a 3/4 inch buckle set nicely.
Please see the following illustration for examples of straight, tapered, and ranger style belts.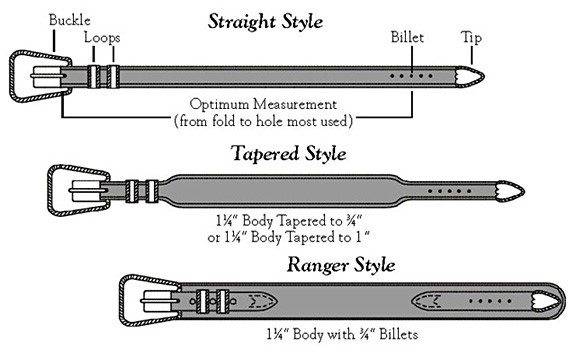 Belt Length (Size)
Our belts are even-sized (30, 32, etc.). However, we do take special orders for custom belt sizes at no additional charge (29, 31, etc.). In general, your belt size will be two numerals up from your pant size. For example, if you wear a size 32 in pants, you will probably do well with a size 34 belt.
The best way to find your size is to measure a belt you have been wearing. A belt's size is measured not from end to end, but from where the leather folds over the buckle to the most used hole. Please refer to the above illustration for instructions on how to measure your belt. We are also happy to assist you in this process over the phone.
No one knows more about the art of leather than craftsman

Alex Trachter

. Here, he explains all that goes into crafting a high-end belt.